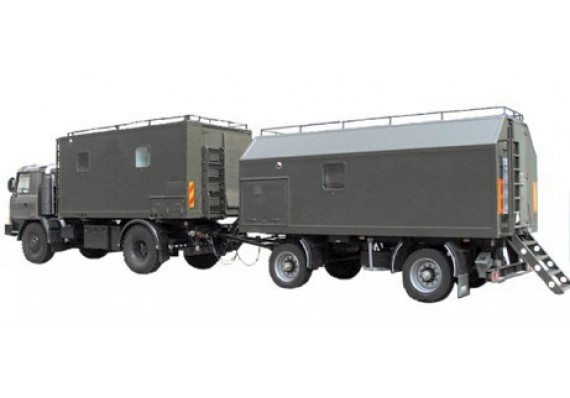 SPECIAL – MEDIUM BOX BODY
The trailer is designed for the installation of technological equipment, a power centre for powering mobile workshops without requirements for electromagnetic compatibility. SSSK-P does not provide collective protection against the effects of toxic and radioactive substances. It is used as a towed element for SSSK on a TATRA chassis. The trailers can be operated in climatic zones A1, B2 and C1 according to STANAG 2895 (-30 °C to + 52 °C). The storage and transport temperature range for SSSK-P is from -33 °C to + 71 °C.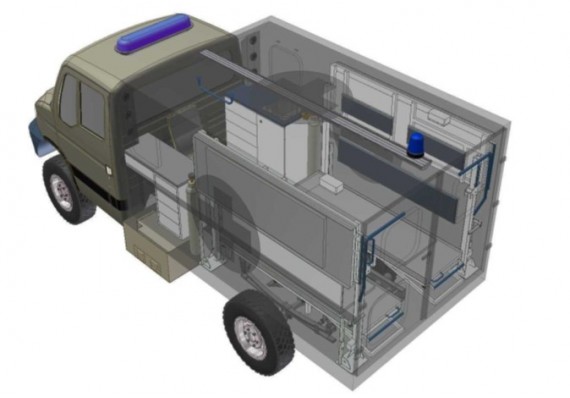 SPECIAL – MEDICAL SUPERSTRUCTURES
LVOME - this light medical aid vehicle is designed for the provision of emergency medical care and evacuation services for injured and sick persons, accompanied by a medical crew. The vehicle allows the transport of:
8 injured persons
 2 lying and 4 sitting sick persons
 medical staff on a seat
The design of the carrier allows easy loading of a stretcher with a lying patient, which is performed by the operator standing on the ground behind the vehicle, and its secure attachment during transport.
Servicing of tanker vehicles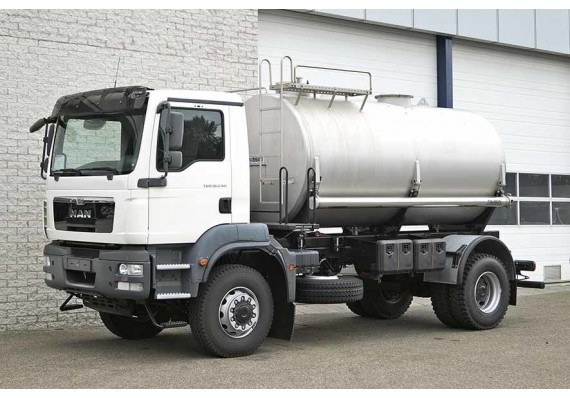 repairs of the tanker vehicles and semi-trailers Hendricks, Goša, Kässbohrer, Schwarzmüller, VSS, Magyar, Haller for fuel transport

 repairs of tanker vehicles and semi-trailers for the transport of chemical and food products

 repairs of all types of tanks made of steel, aluminium alloy or stainless steel

 pressure and functional tests of tanks

repairs of SAF, Fruehauf, BPW, BSS and RABA axles

 ABS WABCO repairs

installation and repair of electrical installations in Ex design

 repairs of air and hydraulic systems

 repairs of brake systems

 repairs of pumping and measuring devices

authorized verification of measuring groups

 installation of electronic temperature compensation on various types of measuring instruments

preparations for VTS, VTS according to the ADR
Tank containers
production, reconstruction and servicing of civil and military tank containers in accordance with the ADR

 pressurization of tank containers

 vehicle repairs and their preparation for VTS

 delivery and installation of accessories and spare parts related to the technology of filling of oil transport vehicles

repairs of storage and tank flow meters
Repairs and inspections of tanker vehicle flow meters
Repairs and maintenance of flow meters of all kinds, filters, monoblocs, pumps and separators

Verification of all type-approved flow meters in authorized testing laboratories

Arrangement and setting of flow meters
Flow meters
delivery and installation of ADAST, HAAR and HEFA measuring group

delivery and installation of HAAR, ADAST and BENNET monoblocs and pumps

delivery and installation of HAAR, HEFA filters and separators

 delivery and installation of electronic fuel temperature compensation on HEFA, HAAR, SMITH, SENNING and SATAM flow meters

delivery and installation of ADAST dispensers

repairs and maintenance of all types of flow meters, filters, monoblocs, pumps and separators

preparation for verification of all type-approved flow meters at an authorized testing laboratory

sequencing and setting of flow meters