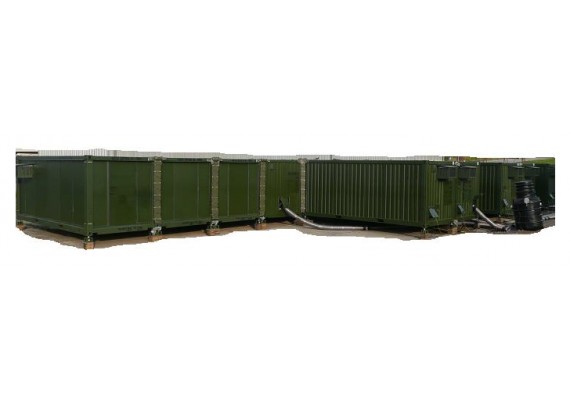 The container may serve as a solution to a wide range of situations and customer requirements, where it is necessary to ensure immediate mobility, flexibility and operational solutions.
It can be used to create, for example, temporary accommodation capacities with the possibility of operative relocation, to create operative workplaces on outlying structures, in solving crisis situations, pandemic crisis situations and during various civil events such as concerts, performances, exhibitions.
Our company is engaged in the production of containers with a wide range of uses, but primarily on the basis of customer requirements. Standard ISO containers used for the fire brigade, armed forces, healthcare, for the civilian sector with uses such as accommodation, workshops, kitchens, workrooms, offices, transport, warehouses and a tank container.
Regarding the equipment of containers of firmly connected/built-in accessories, by default it is possible to provide electrical wiring, ventilation, air conditioning, filtration, connection to water and waste and pressure distribution pipes for air. Other equipment is optional and depends on the type and purpose of use of the container.
We can meet even the most demanding and special customer requirements such as increased resistance, ballistic protection, chemical and biological protection.
We offer special containers for the armed forces, meeting NATO standards and requirements:
1. The most frequent configurations
briefing container

command container with optional ballistic and EMS protection

office container

accommodation container

 sanitary container

kitchen container

refrigeration and freezing container

workroom

workshop container
2. Medical containers
 surgical container

dental container

outpatient container

beds container with intensive care equipment

ordinary beds container

X-ray container

sterilizing container

laboratory container

pharmacy container

administrative container, medical rooms
3. Other types with different uses
FLAT PACK - module of a composable set of 4 containers with a wide range of uses

workshop container

fuel tank container

power generators

workplace for drinking water treatment

CX - a container tank of smaller dimensions, compatible with ISO containers

CX - septic tank

CX - drinking water tank
All mentioned types of containers are fully functional in climatic zones A1. B2 and C1 according to STANAG 2895 (from -30 °C to + 52 °C)
Field hospital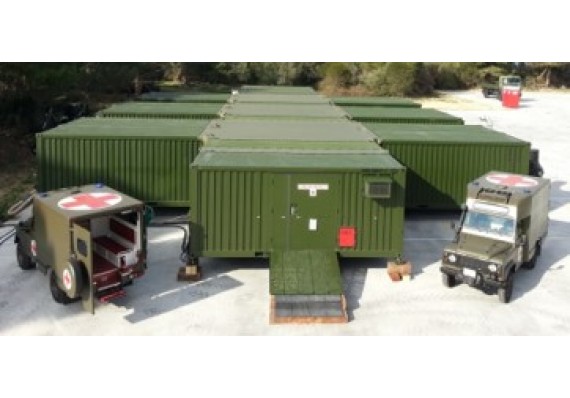 Role1 Medical Facility is designed as an assembly of twenty-six ISO 1C containers. Central part i.e. Corridor and Patient Ward consists of Flatpack containers (for more information about this type container please check attached catalogue list « Flatpack container »). Particular specialized medical workplaces are in standard ISO 1C containers, which are connected to the central corridor.
Role 1 Medical Facility includes doctors, dentists, emergency, sterilization room, laboratory, X-Ray room, pharmacy, administration room, staff room, ablutions, ambient store, dry storage. Each unit is heated and air conditioned and contains specific equipment corresponding to the purpose of the medical workplace. Containers are fully operational in climatic zones A1, B2 and C1 according to STANAG 2895 (from -30°C to +52°C).